MCA Suite, the leading Merchant Cash Advance CRM, is pleased to announce the following updates implemented during the first quarter of 2018:
Default Commissions
For users that enter the same companies or contacts as commissions frequently for new deals, we now enable you to set up default commissions to save time and work. Default commissions will allow Admin users to create contacts for a commission with a simple press of a button. To create default commissions, navigate to the Commission Configuration page under Admin > Setup > Commission Configuration.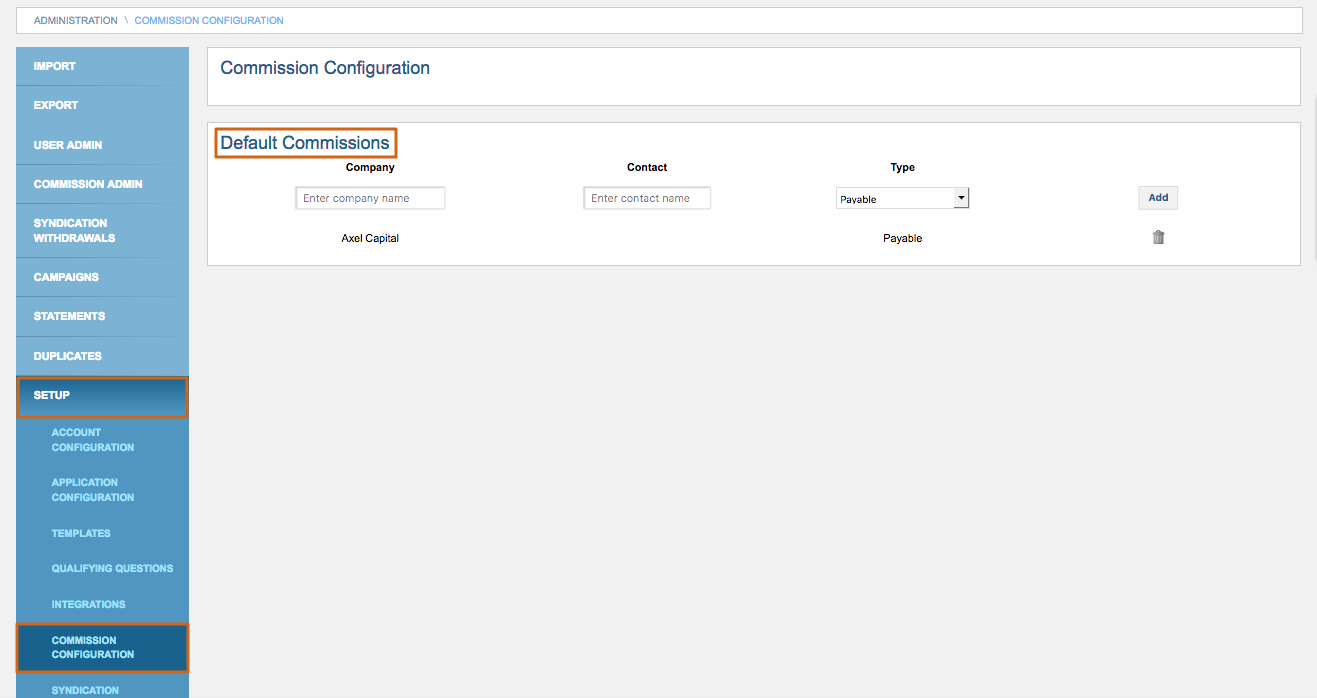 To add the defaults to the deal, navigate to the Deal > Commissions page and click Add Defaults. This button will only appear if you have at least one default set up AND there are no existing commissions on the deal.

For more information about Default Commissions, please visit our support article on the topic.
Default Collection Methods

For our customers who use the same standard collection methods and banks for each of their deals, we now allow you to set up a number of Default Collections Methods. These customized Default Collection Methods will populate to every new deal, to save time and simplify the tracking process.
To set up Default Collection Methods, navigate to the Admin > Set Up > Account Configuration page, and click the link in the Defaults section.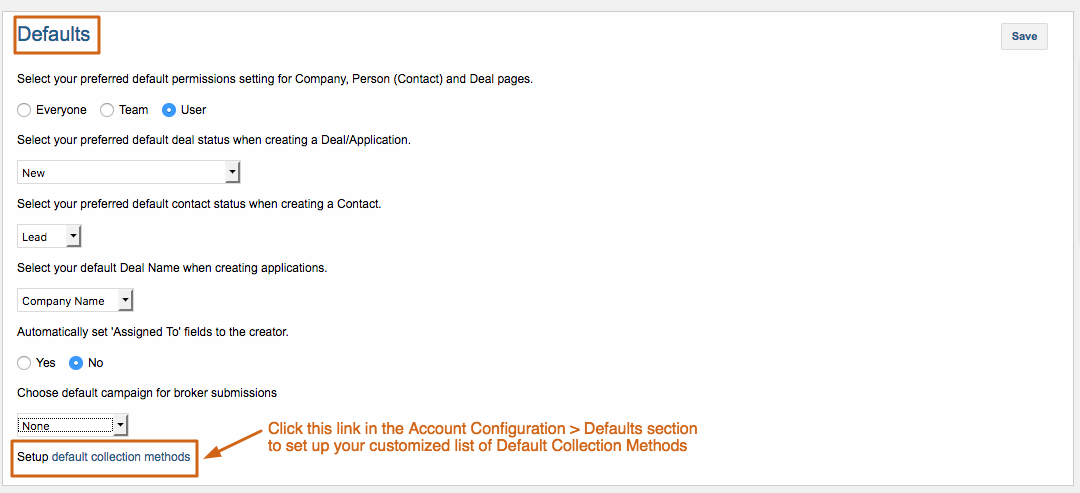 This will bring you to the Default Collection Methods page, where admin users can enter specific collection types, collector names, and choose a merchant number option (deal ID or deal name).

Anytime a new deal is funded (or "tracked"), the system will add those default selections to the Collection Method portion of the Deal Tracking page. Users can add, edit or delete any of the displayed collection methods as desired.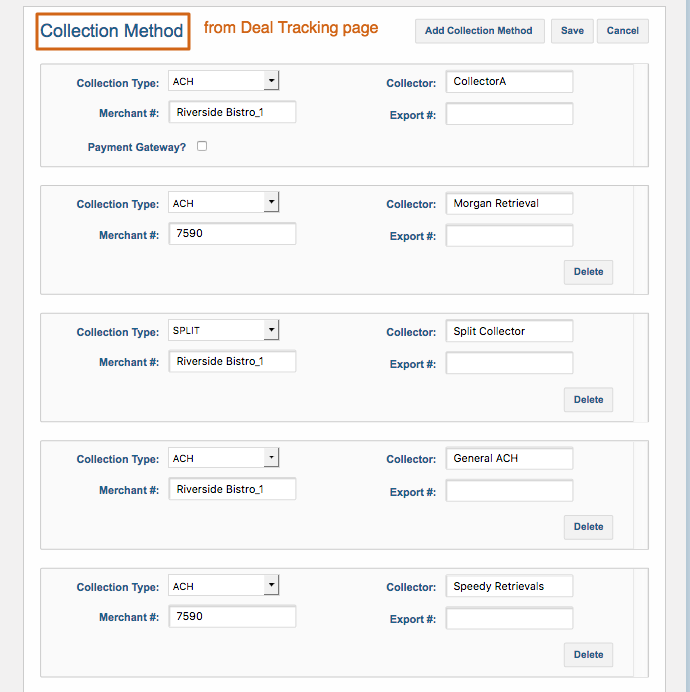 Marking Syndications as Paid
Users can now mark syndicated deals as paid off once they are completed. Doing this allows the Investor Company > Syndicated Deals page (where all the deals a particular investor/syndicate is participating on) to remain clean and streamlined, and easier to use because users will be able to filter "Active," "Marked Paid" or "All" syndicated deals.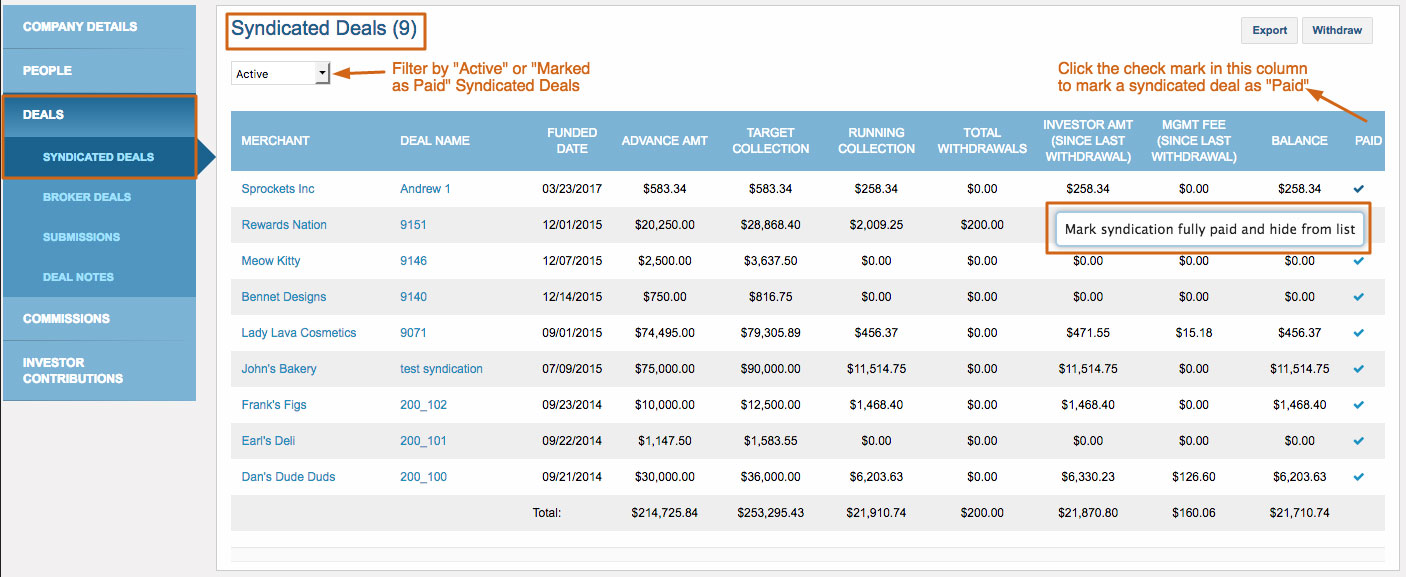 Deals marked as "Paid" will also not appear on the Withdrawals page.
Leads Searchable by Keywords
Users can now associate keywords with the Leads they enter into MCA Suite. Keywords can now be added when a Lead is created manually into the system by clicking the "Add Lead" button from the Lead Sheet.

This takes users to the standard Add Person/Person Details page. Navigate to the textbox highlighted below to save keywords to the new Lead.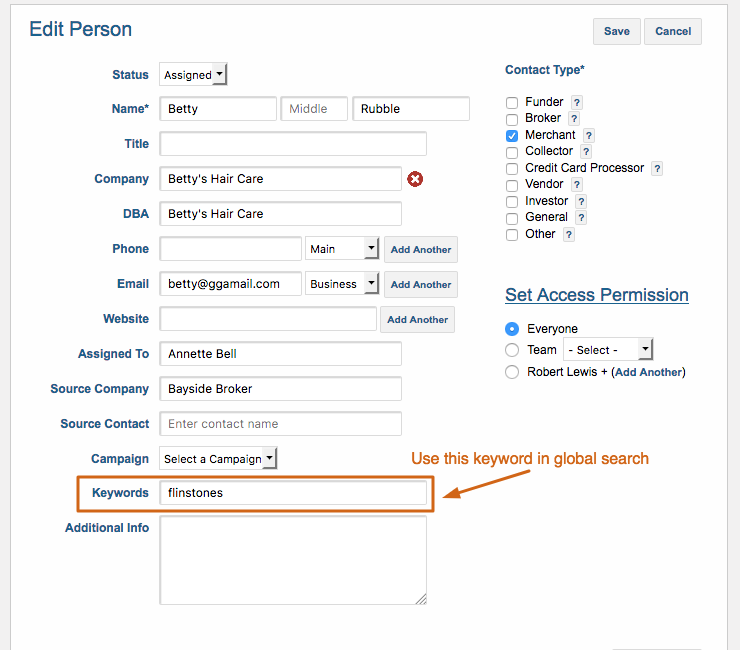 Keywords can also be associated to a Lead if the Lead is imported using the Contact Import feature, as our import template now allows a column specifically for keywords. For more information on how to import Leads and other Contacts, please review this support article.

Users can then search for Leads with these keywords using our Global Search feature.

Submission Note: Change Deal Status and Copy to Deal Note

For those customers using our Submissions feature, we already allowed users to update the entire Deal Status whenever an offer was selected for funding.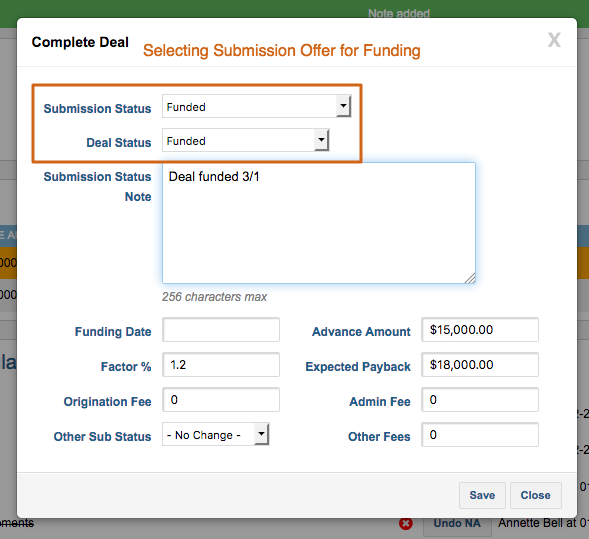 In addition to this simultaneous update, we now also allow users to update the status of the whole Deal whenever the Submission Status is changed (via Submission Note).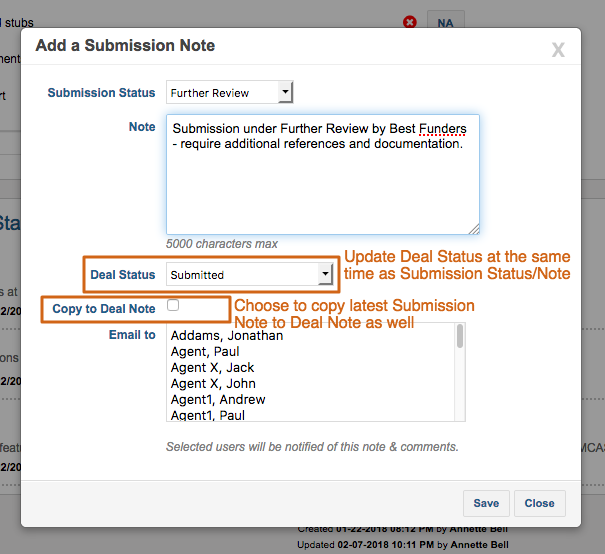 Users can select to copy the latest Submission Note to the Deal Note as well, so that both Deal Note and Status are updated.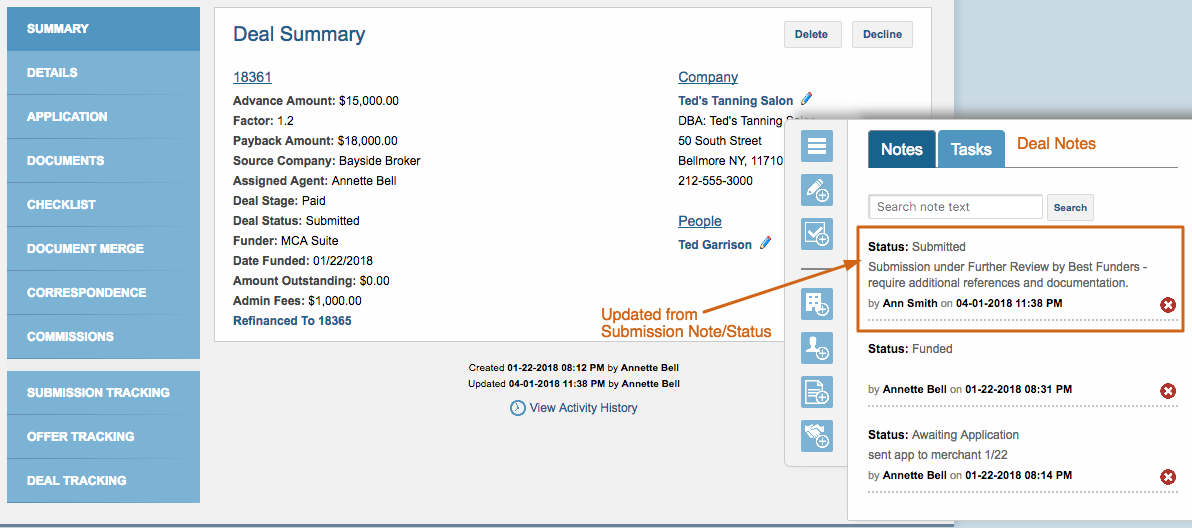 Right Signature Update
We have integrated with RightSignature's latest API so we are up to date on their current platform. If you wish to signup, please click here.
The process for e-signatures and merge remains the same. For every contract you wanted signed, you'll go to the Document Merge page on a deal.  Pick a Document Merge doc and choose one of the owners email.
We send that over to RightSignature behind the scenes and they will email that owner for a signature request.  The owner will receive an email and have a link to RightSignature where they e-sign.  You'll be able to view the status of the signature request on MCA Suite and download the document if it was completed.

You can read more about the setup and integration process here.
Microbilt Balance Check
We have added a Balance Check function as part of our Microbilt IBV (Instant Bank Verification) integration.
After a user has run a successful Instant Bank Verification on a particular merchant,  he/she can request to see the balance on that bank account.

2018 has been a very busy year for MCA Suite so are, and we are excited to continue to develop our application in line with client requests and with the latest trends in the merchant cash advance industry. As always, your feedback and comments are an essential part of this growth process, and we welcome suggestions. Feel free to contact us at support@mcasuite.com with any questions and to stay tuned for future updates.
MCA Suite 2018-Q1 Updates and Enhancements