MCA Suite, the leading Merchant Cash Advance CRM, is pleased to announce the following updates implemented during the second quarter of 2018:
Deal Status Colors and Status Duration
MCA Suite has created the ability to set colors for your different statuses depending on the last time a deal status was updated for the deal. Admin users can select any one of their custom statuses (previously created in the Admin section) and choose a time duration and a corresponding color.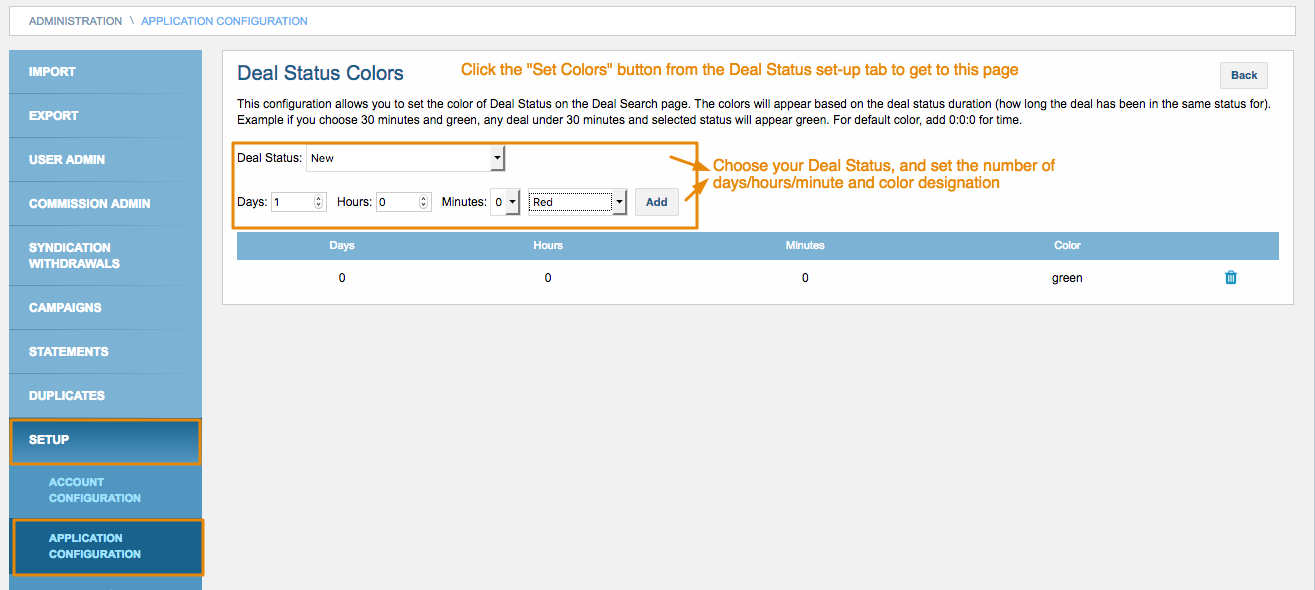 For example, if you want to keep a status highlighted at all times, choose 0 minutes, 0 hours and 0 days so there is no finite duration. Otherwise, if you set, for example, a "Submitted" status to 1 day duration at orange, any deal that has this has been at Submitted status for under a day will be highlighted orange on the Deal Search page. Doing this allows Admins to quickly, with a clear, personalized visual, track how long a Deal has been idle in a particular status, and better monitor their Agents' work on the Deal.

For more information and examples of color-coding Deal Status and setting specific Status duration, please see this support article.
Agent Productivity Dashboard
We have created a new dashboard that allows tracking of specific Agent activities and metrics. Admins can track an Agent's total number of deals, submissions, returned offers, funded deals and total funded amount either across all deals belonging to that Agent, or within a specified date range.

Preview Investor Portal from Syndication
Admin users can now preview what an Investor user will see in his/her portal view, directly from the main Deal Syndication page.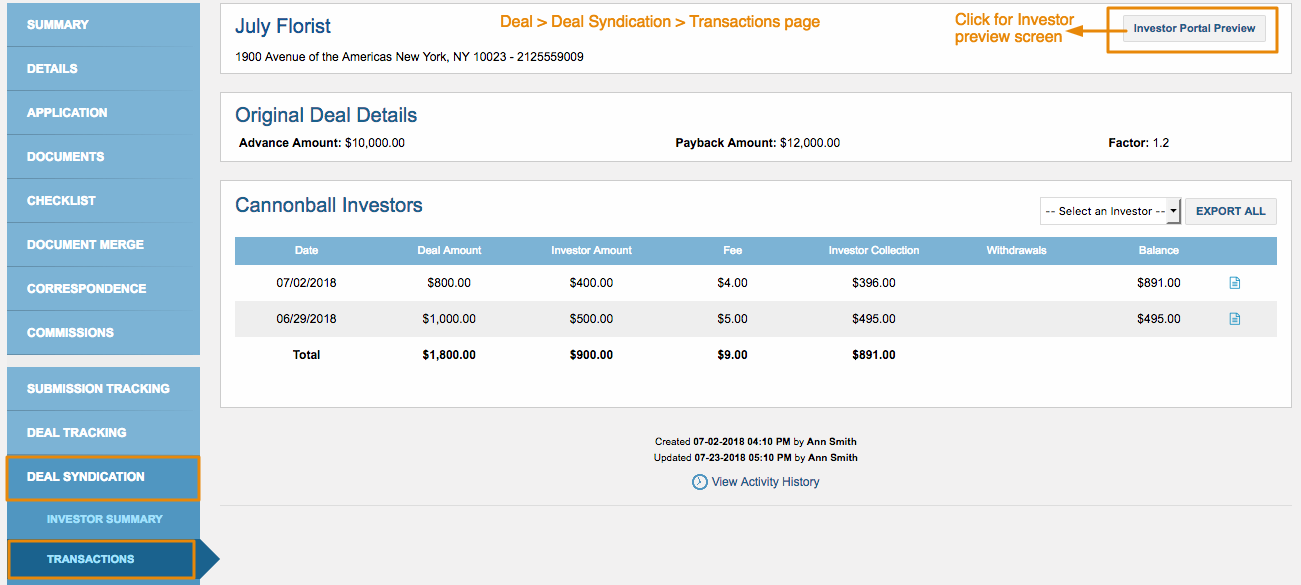 This allows Admins to make sure numbers are captured correctly, and allows complete transparency for all parties. It will also make troubleshooting any Investor Portal issues easier as Admins can easily see for themselves the situation, and not rely on an Investor's description of the problem, or require their log-in credentials to view the portal.

NOTE: Your instance must have at least one Investor User in order for the preview button to appear.
Microbilt Balance Check
Four our customers using our Microbilt integration, in addition to pulling owner credit and running an instant bank verification (IVB) check, we now work with Microbilt to provide an merchant account balance check. After running the instant bank verification, users can run a check on the balance of the account as well, to ensure adequate funds are available. An amount will be inputted, and a "yes" or "no" response is provided as part of the check. Balances can only be checked after a successful instant bank verification.
Custom Deal Search Columns Per Stage
An Administrator can change which columns are displayed on the Deal Search page. Additionally, different columns can be displayed per stage. This customization will be displayed and applied to all users in the main system, and be controlled from the Admin > Setup > Application Configuration page, "More" tab.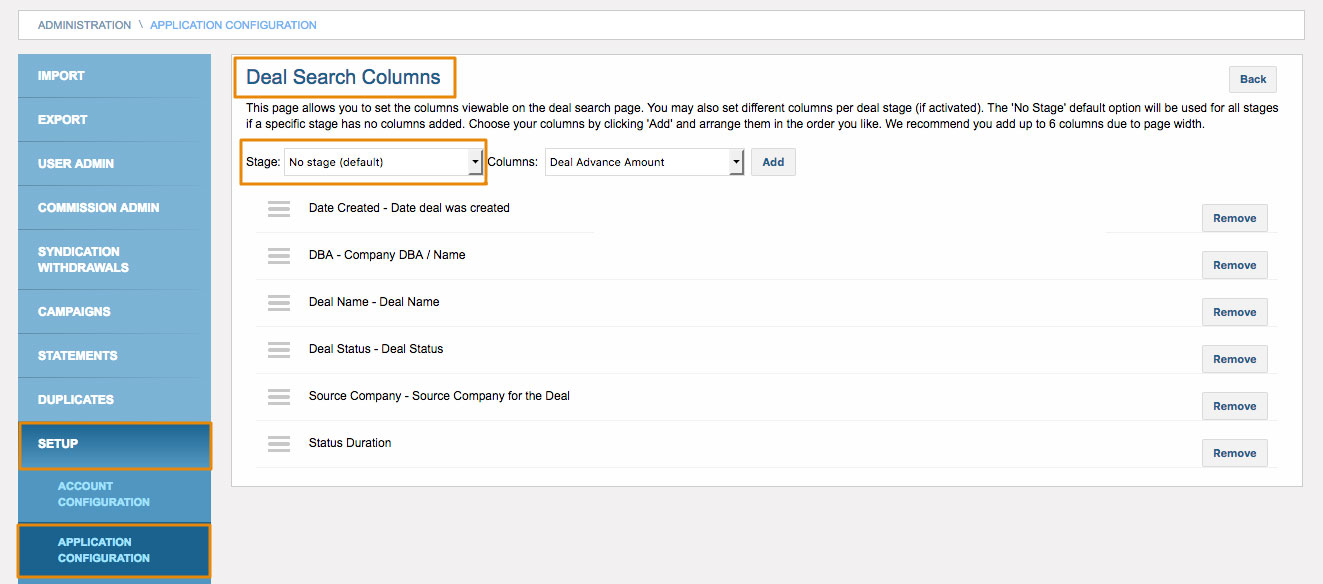 Please see this support article for more information on customizing Deal Search page columns.
Deal Category Filter
We have added a Deal Category filter to the Deal Search page. Users can now quickly filter deals by any specific, customized category name used to organize or sub-classify deals. These results can also exported, in case you would like to create a quick report of all deals in specific Deal Categories.

Additional Filters on Submission Search Page
New filters have been added to the Submission Search page to help users more quick find and organize submitted deals across their entire pipeline.

Show Emailed Users on Notes
Any note – whether it's added to a Deal, Company or Contact Person page – can be emailed internally to selected system users, to alert them to any changes on a file or to initiate follow-ups. These notes will now display the names of the users who were emailed the note, in order to create a record of correspondence and prevent any duplicate notification.
Clickable URL in Notes
If users add a link inside of a Deal Note, that link is now clickable (before it was static/grayed out and had to be copy and pasted). This will allow Deal Notes to be more dynamic and informative for sharing information across users on the deal. Just make sure to include "http://" in URL to make it linkable.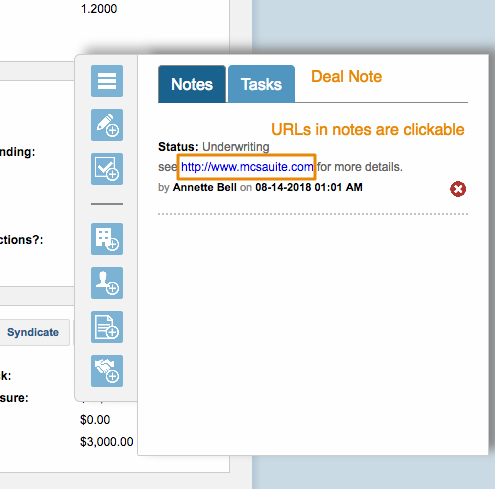 Reporting System
We have made changes to our Reports tab now available to all customers. Users can click a specific report page, and they will be taken to a different page where the report is actually generated. The report is generated and then becomes available for download when users are ready to export. This page will have the last 10 reports available for download anytime, so users can access past specific reports easily and conveniently (for example, as reference or for comparison with current reports).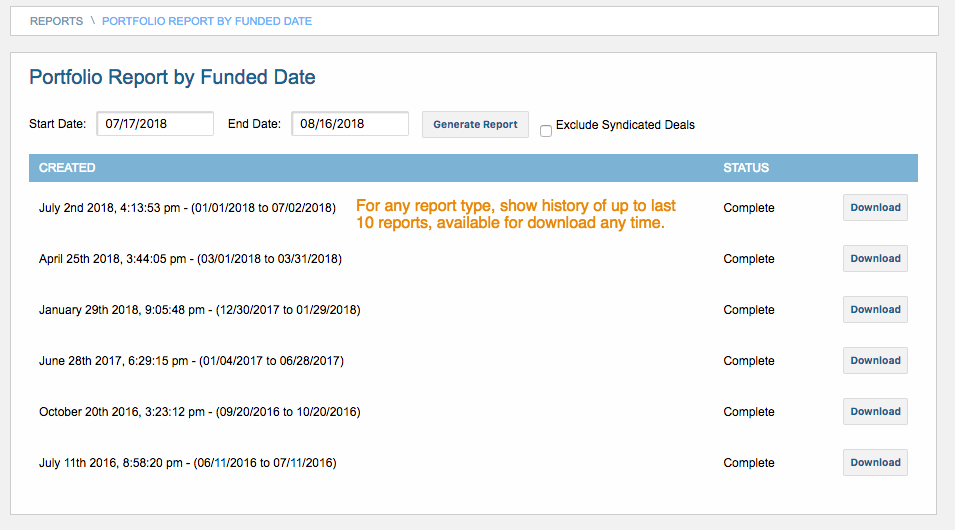 Access to SMTP
We now allow users access to an SMTP page, so you can enter credentials and use your own email server to send out emails from MCA Suite. Previously, we were impersonating our customers' "From" address from our mail sever on correspondence, which could get marked as spam.

Allow Negative Withdrawals
Users can now post negative amount for their investor syndication withdrawals.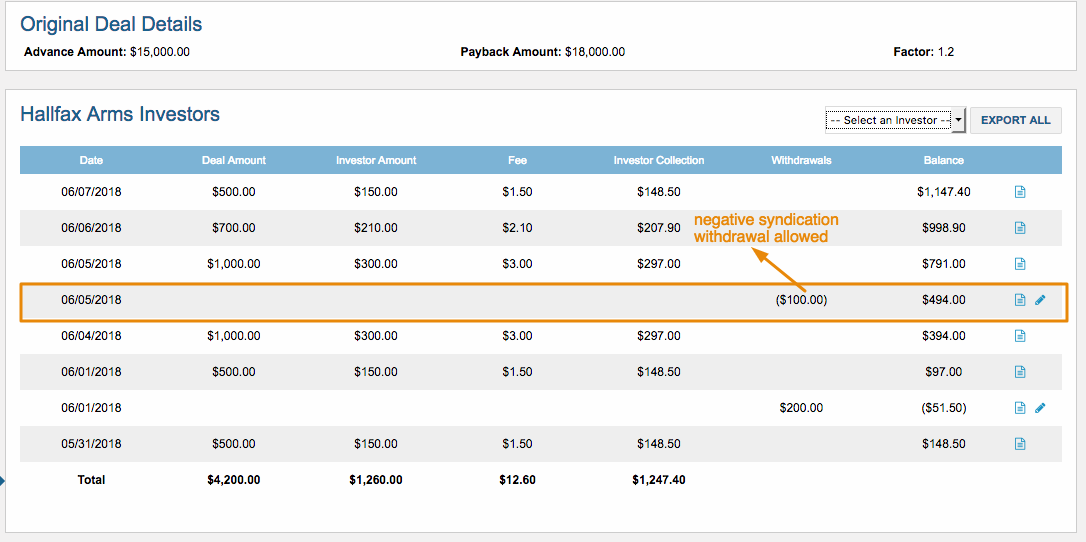 Assigned To User on MCA Application Page
We have added an "Assigned to User" section to the MCA Application page, so that you can assign users to a file at the same time you create the new application. This made sense to include, as the MCA Application page has always allowed user permissions to be set, but these permissions were not useful unless there was also an assigned user designated. You can assign up to two users.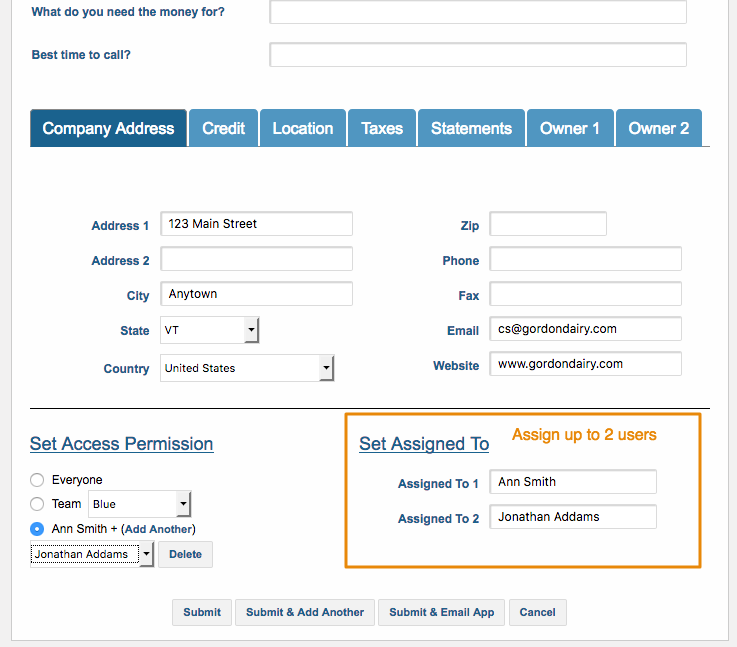 Copy Contact Campaign to Deal
When a Deal is created through a Company or Contact Person record, any campaign listed for that Contact will automatically copy over to the Deal.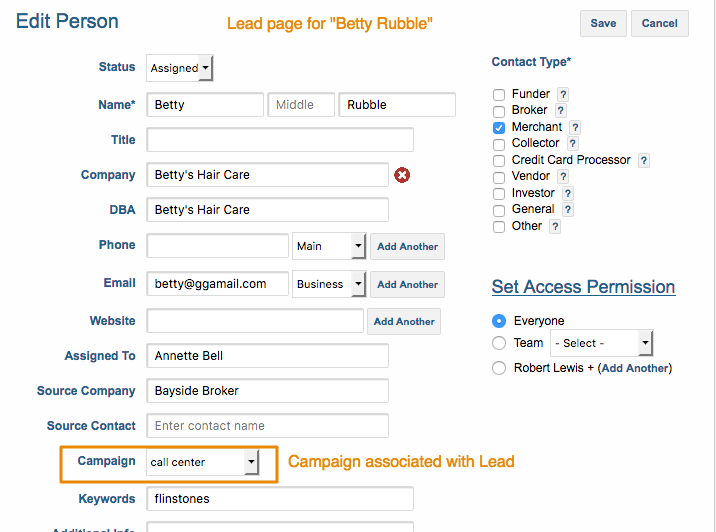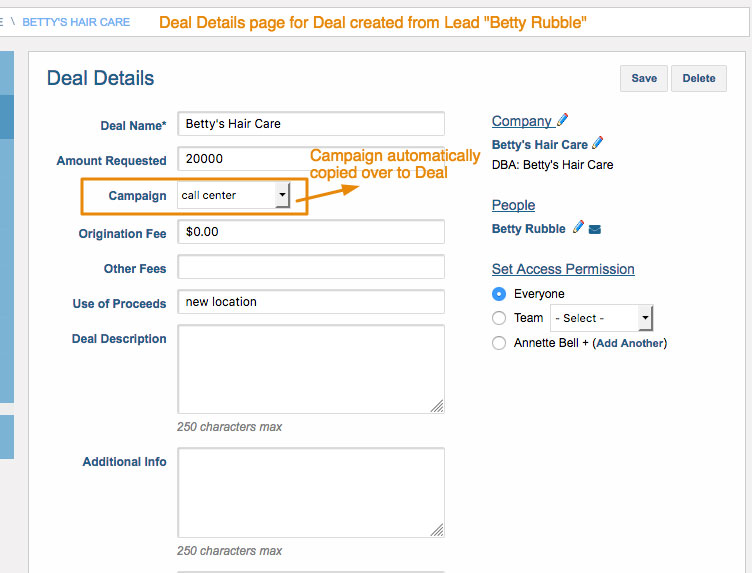 For our customers using the Lead Management features of MCA Suite, this enhancement is especially helpful as it creates a more seamless, thorough conversion of a Lead into an active Deal, retaining all the key tracking details of the Lead.
2018 continues to be a very busy year for MCA Suite as we further develop our application per customer requests and in line with trends in the MCA sphere. As always, your feedback and comments are an essential part of this growth process, and we welcome suggestions. Feel free to contact us at support@mcasuite.com with any questions and to stay tuned for future updates.
MCA Suite 2018-Q2 Updates and Enhancements