One of the most frequently asked questions by our Merchant Cash Advance Funders/Lenders and Brokers/ISO prospects is:  What can MCA Suite's Syndication Feature track?
The simple answer is MCA Suite's Syndication feature can track two levels of investments: 1) the gross amount of a Merchant Cash Advance (MCA) deal in its entirety, and 2) the amounts for direct investors participating in the gross amount of the deal. Furthermore, MCA Suite's Syndication feature can help track payouts to investors as well as fees and commissions. Below is an example of how MCA Funders use MCA Suite's Syndication feature: 
The MCA Deal is $100,000 where the Prime Funder is investing in $50,000 (50%). The assumption here is the Prime Funder is responsible for collecting the Expected Payback (RTR) of the $100,000 plus factor rate. There are two investors (Investor 1 and Investor 2) investing in $30,000 and $20,000 plus fees.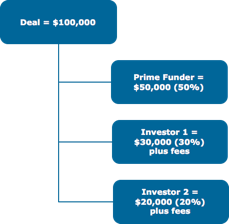 Direct Funders can use MCA Suite's Syndication feature to easily set this up to track each investor's syndication amount and fees. Below is an example of how the Deal will look like in MCA Suite. Investors can also log into MCA Suite's Investor Portal to view investment status. 

Some Funders or even Brokers/ISOs are not primary funders where they are responsible for managing the MCA Deal (i.e., collecting the RTR) but they are participants and have their own investors . Using the same scenario as above where the MCA Deal is $100,000, the Funder or Broker is only a participant by investing in the $30,000 (or 30%) of the $100,000 deal. However, this Funder may have two other investors (Investor B and Investor C) who gave them $10,000 each.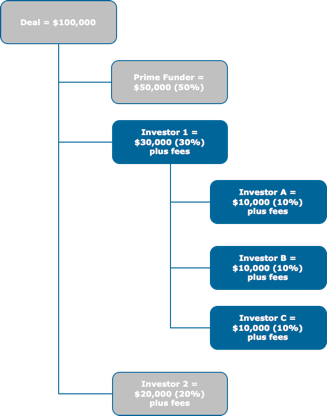 Using MCA Suite's Syndication feature, Funders can set up the Deal in MCA Suite, but as a $30,000 deal and assign three investors to the deal. In this scenario, MCA Suite will help the Funders and ISOs manage their cash investment ($30,000) and report the information to their investors. Similar to the first scenario, investors can log into the MCA Suite Investor Portal to view their investment statuses. 
We hope this blog post provide additional clarity to how MCA Suite's Syndication Features work. We are open to feedback and ideas to improve our product. Please send us an email with your suggestions.
How can Funders and Investors use MCA Suite Syndication features?