One of the most frequently asked question by our Merchant Cash Advance Funders/Lender and Brokers/ISO prospects is: Does MCA Suite integrate with dialers? The answer to the question is a simple: Yes.
However, people's interpretation of what "dialer integration" means can vary. Furthermore, there are thousands of dialers in the marketplace today and it is impossible for MCA Suite to be integrated with every solution.
This post is to explain the different types of dialer integration solutions and how each solution can be integrated with MCA Suite.
There are many types of dialer integrations, but most of our Funder and Broker customers want either:
1. Ability to use their computer to dial out to a number that's a lead (contact) in MCA Suite; or
2. Ability to push qualified leads into MCA Suite to eliminate the need to re-enter the same information from the dialer to MCA Suite.
Below is a simple yet detailed explanation of how MCA Suite can be integrated with a dialer:
1. If the Funder or Broker wants to dial out from MCA Suite, all they need to do is to sign up with a dialer that has a browser plug-in to dial out from a computer. This means the agent will need to have a headset tied to their computer. There is virtually no effort required from MCA Suite to enable dialer integration. Going with this approach means that, with all leads uploaded to MCA Suite, an agent can click on those leads' phone numbers to dial out to the Merchant directly.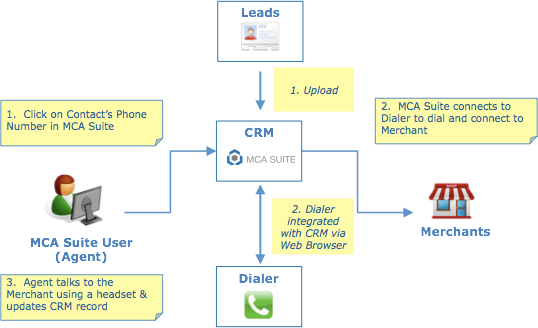 2. The second approach is to use an external dialer that can perform advanced features such as auto dial, ring upon pick-up, etc. and have qualified leads be sent to MCA Suite without having the agent reenter the information. This means Funders and Brokers are importing lists directly to the dialer, and not to MCA Suite.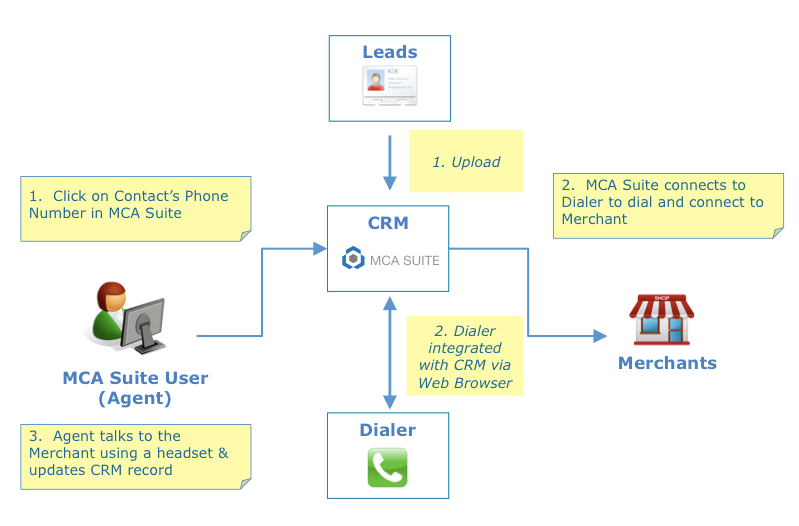 To eliminate the dual entry process, Funder and Broker customers will need to have the dialer vendor write to MCA Suite's API.
For example, if you're using Vicidial, you'll need Vicidial to create a button (i.e., "send lead") on their dialer to send necessary information to MCA Suite to either create a contact or a deal. The responsibility is on the dialer vendor to create the integration into MCA Suite.
We hope this post provided clarity on the different ways dialers can be integrated with MCA Suite, and on the requirements of each approach. If there are alternative scenarios not described in this post, we would love to hear your questions and feedback.
Does MCA Suite integrate with Dialers?